News & Events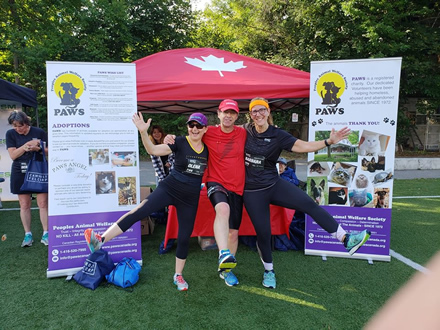 *** PLEASE HELP PAWS TO HELP THE ANIMALS - TODAY! ***

Hello Friends and fellow animal lovers

We are pleased to report that PAWS will be participating in The Yorkville Run again this year - our 4th annual :-)

PAWS PRESIDENT, KIMBERLY HEYS IS ALSO CELEBRATING HER 25TH ANNIVERSARY of managing the affairs of this invaluable animal rescue charity.

PLEASE will you help us to replenish our medical fund by supporting our event TODAY?

We have 5 cats going to our vet tomorrow ... Covid has made things an even greater challenge than usual BUT PAWS VOLUNTEERS NEVER GIVE UP!

EVERY DOLLAR COUNTS ... no donation is too small.

Please join us in making this event a great success ... the animals THANK YOU.

By the way ... it is not too late to register ... feel free to e-mail Kim at kim@pawscanada.org if you are interested in doing so (or you can, of course, refer to The Yorkville Run web site). TEAM PAWS will be running (walking - strolling - hiking - lol) this coming Sunday west of Gravenhurst. ALL ARE WELCOME! Feel free to drop Kim a line if you are interested. Failing which, you can organize your own run/walk and join us virtually if you wish from other parts of Ontario ...

GO TEAM PAWS!!!

https://raceroster.com/events/2020/27727/constantine-yorkville-run/fundraising-organization/21226
---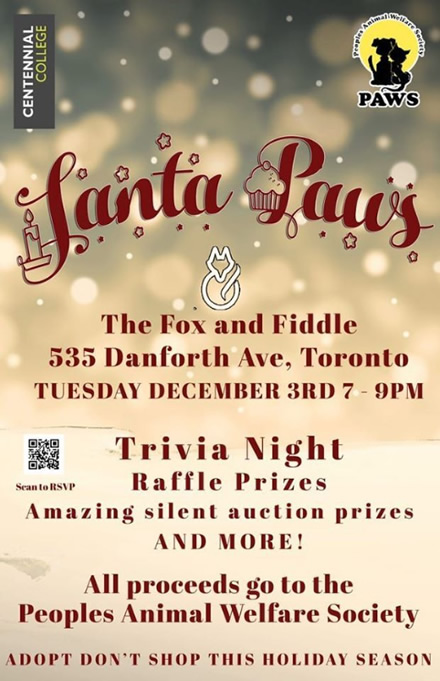 ---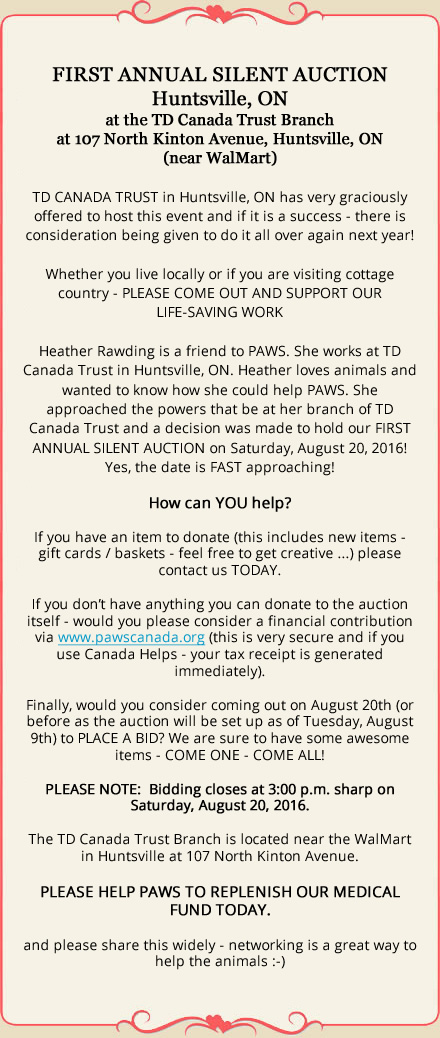 ---
Nathan Winograd, Film screening Redemption: The No
Kill Revolution
Saturday, June 13, 2015
The People's Institute for No Kill is super charged and so very honoured to present the Canadian debut screening of Nathan's film "Redemption", the No Kill revolution that is sweeping North America.
Click here for the full details
---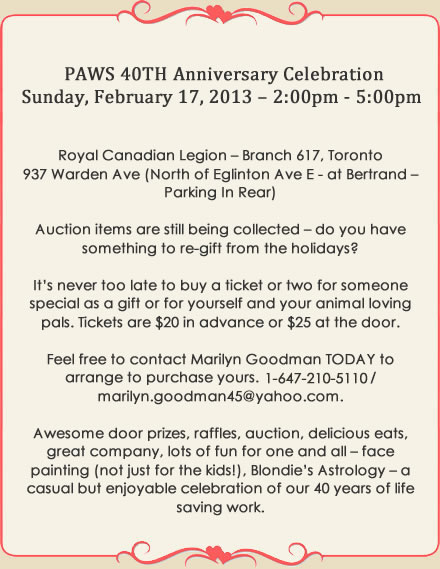 ---
Little Creatures for Little Creatures Charity Fundraiser for PAWS
Saturday, September 8, 2012
I am hoping to see EVERYONE who supports PAWS and our life saving work at the El Macambo next Saturday night! It is sure to be an awesome evening... a great chance for all of us to re-group and to support LITTLE CREATURES and their friends who will be fundraising for PAWS on this special evening!
PAWS Volunteers and I are looking so forward to this night and we would like to offer special thanks to our new friends Alison and Chris of Little Creatures and to The Madison Manor Boutique Hotel for providing accommodations so that I may stay in Toronto that evening and to Annette and Kayla who will make it possible for me to be away from the shelter.
SEE YOU NEXT SATURDAY!? Please read the following to learn more and be sure to share this with all of your animal loving friends, family and co-workers – OUR GOAL IS TO SELL OUT THIS VENUE – please help us to make this happen! (I've heard a rumor that there is a chance to win $500!).
- Kimberly Heys
---
Have you ever considered holding an event of your own to raise much-needed funds for PAWS?
Some recent examples of this are:
Lindsay Lights - Special thanks to The Lindsay Family of Richmond Hill who so generously contributed a portion of the donations from their spectacular annual Holiday Light Show again in 2007. Be sure to visit their website at www.lindsaylights.com for complete information on this unique experience. The Lindsay Family raised $4,500 for PAWS!
Softchoice - At their annual Holiday Party, Softchoice raises money for local charities. We are very grateful that PAWS was their "charity of choice" in 2007. Thanks Softchoice! www.softchoice.com Softchoice raised $4,525 for PAWS!
Justin - this selfless young man who turned 13 recently, decided that, rather than enjoy Birthday gifts that he may not need or use, he would request donations to help homeless animals. You guessed it - PAWS was the chosen recipient. Thank you Justin (and his Mom, Julie) for your support. PAWS Volunteers are thrilled that people of all ages are becoming more and more involved in their communities by Volunteering and supporting causes that are close to their hearts. Justin raised $500 for PAWS! Smile - Philanthropy is contagious!